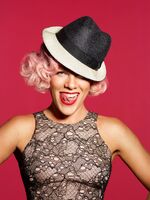 Alecia Beth Moore (born September 8, 1979), better known by her stage name P!nk (pronounced Pink), is an American singer, songwriter, and actress. Originally a member of the girl group Choice, she rose to fame as an R&B artist with her debut solo album, Can't Take Me Home (2000). The album was certified double platinum in the United States and spawned two Billboard Hot 100 top-ten hits, "There You Go" and "Most Girls." She gained further recognition with Moulin Rouge! soundtrack "Lady Marmalade," which gave P!nk her first Grammy Award as well as her first number-one single on the Billboard Hot 100. P!nk took more artistic control and pursued pop rock direction for her second album, M!ssundaztood (2001). It sold more than 15 million copies worldwide and yielded three U.S. top-ten singles, "Get the Party Started," "Don't Let Me Get Me," and "Just Like a Pill."

P!nk's third studio album, Try This (2003), generated considerably lower sales, but earned her the Grammy Award for Best Female Rock Vocal Performance. P!nk revived her popularity with her fourth and fifth studio albums, I'm Not Dead (2006) and Funhouse (2008), with the latter containing her second U.S. number-one hit, "So What." P!nk concluded the first decade of her career with the compilation album Greatest Hits... So Far!!! (2010), which featured the chart-topping single "Raise Your Glass." Her sixth studio album, The Truth About Love (2012), debuted at number one on the Billboard 200 and spawned the top-ten singles "Blow Me (One Last Kiss)," "Try," and "Just Give Me a Reason," with the latter becoming her fourth US number-one single. In 2014, P!nk recorded a collaborative album, rose ave., with Canadian musician Dallas Green under a folk music duo named You+Me.

Noted for having "a strong signature voice and a literally acrobatic ability on stage", P!nk has received mostly positive reception from music critics. She has sold over 130 million records worldwide. She has sold over 16 million albums in the United States. Her career accolades include three Grammy Awards, a Brit Award, and six MTV Video Music Awards. In 2009, Billboard recognized P!nk as the Pop Songs Artist of the Decade. P!nk was also the second most-played female solo artist in the United Kingdom during the 2000s decade, behind Madonna. VH1 ranked her number 10 on their list of the 100 Greatest Women in Music, while Billboard awarded her the Woman of the Year in 2013.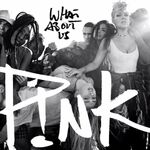 "What About Us" is a song by American singer-songwriter P!nk. It was written by P!nk, Steve Mac, and Johnny McDaid, with production handled by Mac. The song was released through RCA Records on August 10, 2017, as the lead single from P!nk's upcoming seventh studio album, Beautiful Trauma (2017).
P!nk hinted at an upcoming release in a tweet on July 16, 2017. When a fan asked when they could expect new music, P!nk wrote: "Well I'm shooting a video next week." On July 21, 2017, P!nk shared a video from the filming set, captioned: "Video #new #fyeah #itsallhappening." The day after, she shared a photo on social media, revealing the new single's title and release date.




Blogs
Good news to anyone who's a fan of P!nk. It sounds like the wait for new music is finally over. Maybe.
One of the moderators on P!nk's official site also has an account on the pop …
Hello everyone, he is a link to me playing a P!nk Medley on piano. Please like and Subscribe, it would mean a lot!
See more >