P!nk is an American singer-songwriter. She is known for some of her song like "walk me home" and "just give me a reason".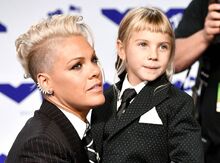 Willow Sage Hart is the oldest daughter of P!nk and the older sister of Jameson Hart.  Willow was born on June 2nd, 2011. Willow was also featured on two tracks from P!nk's sixth album, The Truth About Love: "How Come You're Not Here " and "Timebomb" (which is an iTunes bonus track), banging bells and strumming the bass, respectively. She also inspired P!nk's song "Run", featured on the deluxe edition of The Truth About Love.
In May 2016, she appeared in P!nk's music video for "Just Like Fire," taken from the Alice Through the Looking Glass soundtrack. According to P!nk, Willow served as inspiration for the song.
Pink's first child is her 10-year-old daughter Willow. She was born on June 2, 2011.
In 2018, she featured on the Greatest Showman soundtrack, on Million Dreams (Reprise).
In 2021, she was a featured artist in P!nk's song "Cover Me In Sunshine" and appeared more than once in "All I Know so far"